#STOPTrackTragedies, Mock Crash for Safety
Sunday September 24, 2023
The #STOPTrackTragedies, Mock Crash for Safety will take place in North Collins New York on Sunday September 24. This open-to-the-public event will take place on co-host Buffalo Southern Railroad's tracks at the Milestrip Road railroad crossing. The Mock Crash will feature a car donated by Towne Auto Group being demolished by a Buffalo Southern freight train going 25MPH. CSX has donated a defunct locomotive to use as the battering ram in the collision.
There will be a short ceremony and then the crash will occur at about 11:30AM on 9/24/2023.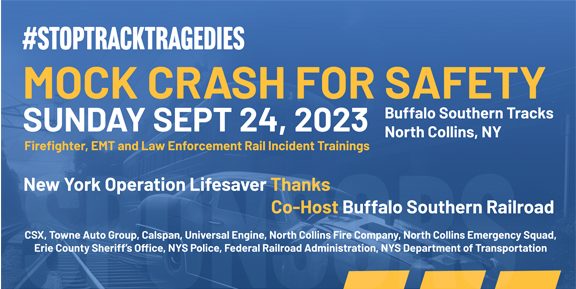 After the crash, Calspan, a Buffalo area crash test firm will collect data from the crash test dummies they are providing for the EMT/Firefighter and police investigation training simulations that will follow.
We didn't do this alone. We needed tons of help, equipment donations, and funding. Thanks to especially Co-Host Buffalo Southern Railroad for letting us do this on their tracks using some extremely costly equipment. Thanks to our other sponsors, CSX, Towne Auto Group, Calspan, Universal Engine (towing), North Collins Emergency Squad and North Collins Fire Department (there for us since our first discussions), FRA and NYS DOT.