About once every three hours a person or vehicle is hit by a train in the US
There are roughly 1000 deaths per year in the US.
We believe that when people know the facts they will make safer decisions near railroad tracks.
For instance, have you heard of the Emergency Notification System signs located at every public railroad crossing in the USA. The information on ENS signs can save lives when a vehicle is stuck on the tracks.
Train Safety Has come a long way since 1930 when trains rumbled down Manhattan streets behind a mounted signal person
Train Safety Facts:
A freight train traveling 55 miles per hour will take a mile or more to stop, that's at least 18 football fields
Trains can come from any direction at any time, so when you See Tracks, Think Train
Trains ALWAYS have the right of way, ALL vehicles and pedestrians must yield
Trains are closer and moving faster than they appear to be
Never take pictures on or near railroad tracks
Track Safety Basics
Freight trains don't travel at fixed times, and schedules for passenger trains often change. Always expect a train at each highway-rail intersection at any time.
All train tracks are private property. Never walk on tracks; it's illegal trespass and highly dangerous. It takes the average freight train traveling at 55 mph more than a mile—the length of 18 football fields—to stop. Trains cannot stop quickly enough to avoid a collision.
The average locomotive weighs about 400,000 pounds or 200 tons; The whole train can weigh anywhere from 1500 to 18,000 tons. This makes the weight ratio of a car to a train proportional to that of a car to a soda can. We all know what happens to a soda can hit by a car.
Trains have the right of way 100% of the time over emergency vehicles, cars, the police and pedestrians.
A train can extend three feet or more beyond the steel rail, putting the safety zone for pedestrians well beyond the three foot mark. If there are rails on the railroad ties, always assume the track is in use, even if there are weeds or the track looks unused.
Trains can move in either direction at any time. Sometimes its cars are pushed by locomotives instead of being pulled, which is especially true in commuter and light rail passenger service.
Today's trains are quieter than ever, producing no telltale "clackety-clack." Any approaching train is always much closer, moving much faster, than you think.
Remember to cross train tracks ONLY at designated pedestrian or roadway crossings, and obey all warning signs and signals posted there.
Stay alert around railroad tracks. Refrain from texting, headphones or other distractions that would prevent you from hearing an approaching train; never mix rails and recreation.
Protect your animal friends, don't take them near railroad tracks
If you're stuck on or near the tracks the ENS sign can save your life.
Find the blue and white Emergency Notification System Sign!
IF YOU'RE STUCK ON THE TRACKS
If you're vehicle's stuck on the tracks, get out of your vehicle immediately!
Locate the Emergency Notification Sign on the crossbuck or signal post
Call the 800# on the sign and give them the crossing number and your status. This 800# number goes to the train dispatcher and only they can stop the train
Photos and railroad tracks don't mix
Never use the tracks as a backdrop for photography.
People have died trying to get the "perfect selfie."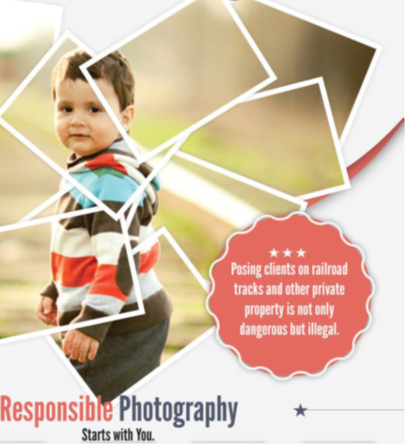 For more information about train safety click here
Further safety statistics and information at the Federal Railroad Administration Office of Safety Analysis
Federal Railroad Administration Grade Crossing Dash Map for Grade Crossing Collisions
Federal Railroad Administration Trespass and Suicide Dashboard
---