During the summer and fall of 2022 NYOL and LIRR TRACKS safety program teamed up for two safety campaigns
The Phone's Can Wait public awareness campaign is designed to get drivers to not use cell phones while driving, especially at or near railroad crossings. Drivers who text are 23 times more likely to have a collision. But only about ¼ of cell phone cause collisions occur because of texting, so just using a cell can distract drivers enough to cause a collision.
Here's the PSA we centered this campaign on.
Our second public awareness campaign concerns safety in stations and on platforms. Our Station Safety campaign focuses on the problem of people using scooters, skateboards, bikes and other nonauthorized person wheeled vehicles in stations and on platforms. This campaign will mix social media, events, old fashioned signage and new advertising techniques to alert riders to the dangers to themselves and fellow passengers when they ride unauthorized vehicles on platforms. Posts like this one below have generated tons of comments by people who agree that their fellow passengers should not be riding anything on platforms or in stations. We know we've hit a nerve with this campaign.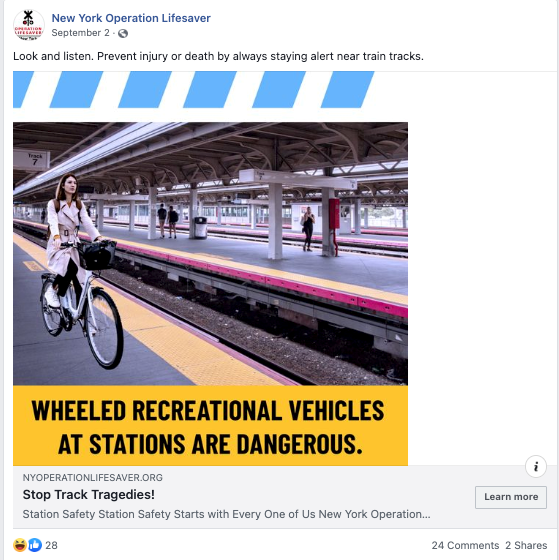 Here's the new OLI transit safety video that we are using for this campaign.