Sunday September 24, 2023
The #STOPTrackTragedies, Mock Crash for Safety was a huge hit! Thank you to Buffalo Southern, CSX Transportation, Calspan, Towne Auto Group, Universal Engine, North Collins Fire Department, North Collins Emergency Squad, NYS Police, NYS DOT, and the FRA for helping to make this event such a big hit.
This open-to-the-public event took place on co-host Buffalo Southern Railroad's tracks in Norht Collins, NY. The Mock Crash featured a car donated by Towne Auto Group being demolished by a Buffalo Southern freight train going 25MPH. CSX donated an out of service locomotive to use as the battering ram in the collision.
https://www.wgrz.com/video/news/local/as-seen-on-tv/mock-train-crash-operation-lifesaver-drill-in-north-collins/71-0037ae8f-9517-4dc6-8d14-5803355ac773
After the Mock Crash, Calspan collected crash data, fire and EMT squads had real world training sessions and NYS Police led a Rail Incident training. This event took nearly a year to plan and coordinate and we thank everyone involved for their time, effort and commitment to rail safety.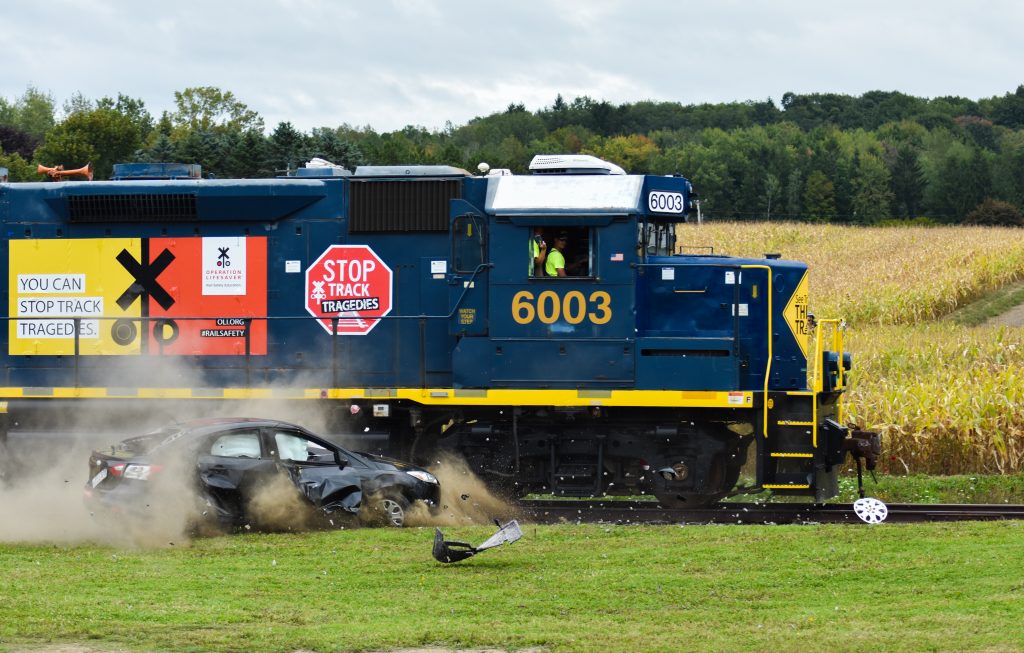 Buffalo News took this picture of North Collins Fire Department Training on site.